City of Dragons (Rain Wild Chronicles #3)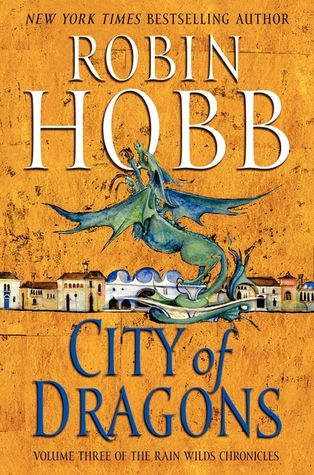 ---
Storyline:
Once, dragons ruled the Rain Wilds, tended by privileged human servants known as Elderlings. But a series of cataclysmic eruptions nearly drove these magnificent creatures to extinction. Born weak and deformed, the last of their kind had one hope for survival: to return to their ancient city of Kelsingra. Accompanied by a disparate crew of untested young keepers, the dragons embarked on a harsh journey into the unknown along the toxic Rain Wild River. Battling starvation, a hostile climate, and treacherous enemies, dragons and humans began to forge magical connections, bonds that have wrought astonishing transformations for them all. And though Kelsingra is finally near, their odyssey has only begun.
Because of the swollen waters of the Rain Wild River, the lost city can be reached only by flight—a test of endurance and skill beyond the stunted dragons' strength. Venturing across the swift-running river in tiny boats, the dragon scholar Alise and a handful of keepers discover a world far different from anything they have ever known or imagined. Immense, ornate structures of black stone veined with silver and lifelike stone statues line the silent, eerily empty streets. Yet what are the whispers they hear, the shadows of voices and bursts of light that flutter and are gone? And why do they feel as if eyes are watching them?
The dragons must plumb the depths of their ancestral memories to help them take flight and unlock the secrets buried in Kelsingra. But enemies driven by greed and dark desires are approaching. Time is running out, not only for the dragons but for their human keepers as well.
---
---
List Chapter or Page (151):