Dragon Avenger (Age of Fire #2)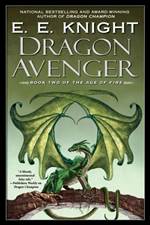 ---
Storyline:
Dragon Avenger (Age of Fire #2)
From the national bestselling, award-winning author of Dragon Champion-second in the fantastic new Age of Fire series.
Flung to freedom as their mother battles a group of slave-trading dwarves, young Wistala and her gray, scaleless brother, Auron, find themselves alone in the Upper World. And when Auron sacrifices himself so that she may live, Wistala must overcome her grief and fear to find others of her kind-and bring her wrath to bear on those who would destroy them.
---
---
List Chapter or Page (75):