Enshadowed (Nevermore #2)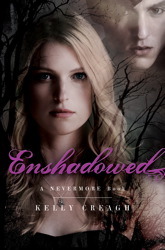 ---
Storyline:
True love takes a twisted turn in the second book of this modern gothic romance trilogy channeling the dark brilliance of Edgar Allan Poe.
Varen Nethers is trapped in a perilous dreamworld—a treacherous and desolate realm where the terrifying stories of Edgar Allan Poe come to life. Isobel Lanley, plagued by strange visions and haunted by the nightmares of Varen's creation, is the only one who can save him.
Isobel knows that her only hope lies within a Baltimore cemetery. There, in the early morning of Edgar Allan Poe's birthday, a mysterious stranger known as the "Poe Toaster" will make his annual homage at the legendary poet's grave.
Only the Poe Toaster holds the key to the way between worlds. But great dangers lie ahead for Isobel. An ancient evil, draped in veils of white, is watching, challenging her for Varen's affections. When Isobel finally finds Varen, he is no longer the quiet and brooding boy who once captivated her, but a dark force, powerful and malevolent.
Could Isobel's greatest love also be her greatest adversary?
---
---
List Chapter or Page (125):