Jordyn (A Daemon Hunter #1)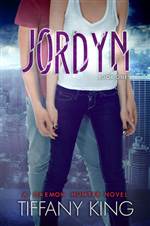 ---
Storyline:
Jordyn (A Daemon Hunter #1)
Hand to hand combat training: Check
Cardio and strength training: Check
Daemon hunting: Check
Anomaly: Check
Check, check, check, check...That's all my life is. There's nothing ordinary about me. I'm "special." I know this because I'm reminded of it every stinking day. I can kick a Daemon's ass with both hands tied behind my back. I can run up a mountain without breaking a sweat. Know what I can't do? Get guys to notice me, or hang out with friends like normal people do. I can't just be ordinary because I have an Arch Angel for a mentor who is always breathing down my neck, and a family of angelic Guides and Protectors who scrutinize every little thing I do. Just for a day I want a life where I'm no longer some anomaly, where I don't have to feel like a lab rat.
And then I met Emrys. Okay, so my mentor and family hate him, but probably for good reason. After-all, he is a Soul Trader, and they aren't the most trust worthy beings. But, he is sooo hot with his green eyes, leather jacket and the sexiest tattoo you've ever seen running down his back. And-he doesn't treat me like a project.
I've got myself in quite a little quandary here. Choosing between my responsibilities and the Trader that holds my heart is something I didn't sign up for. Torn between two different worlds, I must now decide who to trust and who to walk away from. What's a girl to do? See what I mean? I am an anomaly. I am Jordyn.
---
---
List Chapter or Page (22):