Never Cry Wolf (Night Watch #4)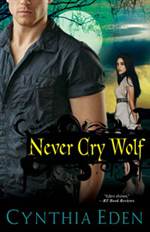 ---
Storyline:
Never Cry Wolf (Night Watch #4)
RUNNING WITH A DANGEROUS CROWD
Lucas Simone is not the kind of guy you mess with. He's big, he's strong, and his eyes hint at a wilder side most women can't handle. Of course, that's because his predatory instincts are no metaphor–he's a genuine Grade-A top-quality werewolf, tough enough to fight his way to dominance over the scariest pack on the West Coast. There's only one chink in his armor. Unlike most alpha dogs, Lucas has a reputation for protecting the weak and innocent.
Sarah King is counting on that protective impulse–it's the only thing standing between her and certain death. There are only two problems: one, she's not quite as innocent as she'd like Lucas to believe. And two, if he doesn't stop stoking Sarah's animal lust, it's only a matter of time before her own wild side gets unleashed…
---
---
List Chapter or Page (41):