Skye's Trail (The Angelini #1)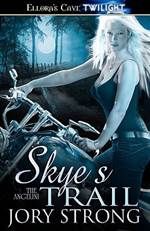 ---
Storyline:
Skye's Trail (The Angelini #1)
For Skye Delano, the hunt and the kill are sometimes inexorably tied together. Her origins shrouded behind an impenetrable wall of mental pain, Skye has survived and evolved into a tracker, a hunter who metes out justice to those who prey on the helpless. Alone but not lonely, she's been content with her life. But now her body is changing and there's an underlying craving that's left her restless. She needs to take a mate - or rather, two mates...
Detective Rico Santana wants and needs Skye - for himself, and to track a couple of kids who have gone missing. In all the centuries that Giovanni Banderali has been alive, he's never desired any woman enough to bind her to him as a companion. That changed the moment he saw Skye. She's a threat to the fledgling vampires he's searching for, but nothing will stop him from claiming her - not even the Angelini blood that flows through her veins. Adversaries, natural enemies - dangerous allies - the bond that links them is stronger than lust, more powerful than love. When an Angelini chooses a mate, no man can resist.
---
---
List Chapter or Page (19):