The Gunslinger (The Dark Tower #1)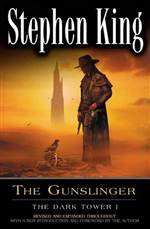 ---
Storyline:
The Gunslinger (The Dark Tower #1)
In The Gunslinger (originally published in 1982), King introduces his most enigmatic hero, Roland Deschain of Gilead, the Last Gunslinger. He is a haunting, solitary figure at first, on a mysterious quest through a desolate world that eerily mirrors our own. Pursuing the man in black, an evil being who can bring the dead back to life, Roland is a good man who seems to leave nothing but death in his wake.
This new edition of The Gunslinger has been revised and expanded throughout by King, with new story material, in addition to a new introduction and foreword. It also includes four full-color illustrations in the hardcover and trade paperback formats.
---
---
List Chapter or Page (28):