The Line (Witching Savannah #1)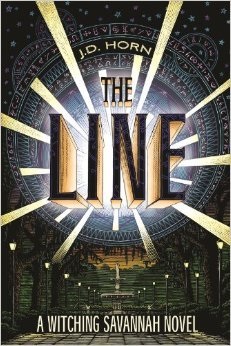 ---
Storyline:
The Line (Witching Savannah #1)
Move over, Sookie Stackhouse—the witches of Savannah are the new talk of the South. Bold, flirty, and with a touch of darkness, debut author J.D. Horn spins a mesmerizing tale of a family of witches . . . and the problem that can arise from being so powerful. As Charlaine Harris' series winds down—and as Deborah Harkness' series heats up—Witching Savannah is new contemporary fantasy that will be sure to enchant new readers.
Mercy Taylor, the youngest member of Savannah's preeminent witching family, was born without the gift of magic. She is accustomed to coming in a distant second to the minutes older, exquisite and gifted twin she adores. Hopelessly in love with her sister's boyfriend, she goes to a Hoodoo root doctor for a love spell. A spell that will turn her heart to another man, the best friend who has loved her since childhood.
Aunt Ginny, the family's matriarch, would not approve. But Mercy has more to worry about than a love triangle when Aunt Ginny is brutally murdered. Ginny was the Taylor family's high commander in the defense of the bewitched line that separates humankind from the demons who once ruled our realm.
A demon invasion looms now that the line is compromised. Worse yet, some within the witching world stand to gain from a demon takeover. Mercy, entangled in the dark magic of her love spell, fighting for her sister's trust, and hopelessly without magic, must tap the strength born from being an outcast to protect the line she doesn't feel a part of...
In this riveting contemporary fantasy, Horn delivers the full betrayal, blood, and familial discord of the best of Southern gothic.
---
---
List Chapter or Page (65):