The Runaway Queen (The Bane Chronicles #2)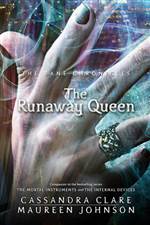 ---
Storyline:
Due to some reason, the article content has been deleted. Please do sympathize ! Please read the other stories.
Do you like this book you can buy books:
The Runaway Queen (The Bane Chronicles #2)
Magnus Bane has a royal role in the French Revolution—if the angry mobs don't spoil his spells. One of ten adventures in The Bane Chronicles.
While in France, immortal warlock Magnus Bane finds himself attempting to rescue the royal family from the horrors of the French Revolution—after being roped into this mess by a most attractive count. Naturally, the daring escape calls for invisible air balloons…
---
---
List Chapter or Page (0):