Wicked After Midnight (Blud #3)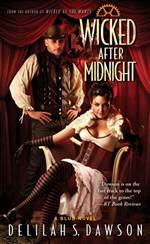 ---
Storyline:
Wicked After Midnight (Blud #3)
Life as a contortionist in Criminy's Clockwork Caravan should be the height of exotic adventure, but for Demi Ward, it's total dullsville. Until her best friend, Cherie, is stolen by slavers outside of Paris, and Demi is determined to find her.
On the run from his own past, Vale Hildebrand, a dashing rogue of a highwayman, hides Demi from the slavers…but why? He pledges to help her explore the glittering cabarets of Paris to find her friend, but much to Vale's frustration, Demi soon attracts a host of wealthy admirers. The pleasures of music, blood, and absinthe could turn anyone's head, and it would be all too easy to accept Cherie's disappearance as inevitable—but with Vale's ferocious will and Demi's drive to find her friend, they soon have a lead on a depraved society of Parisian notables with a taste for beautiful lost girls. Can Demi wind her way through the seedy underbelly of Paris and save her best friend before she, too, is lost?
---
---
List Chapter or Page (64):