Zero Hour (Resident Evil #0)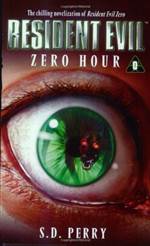 ---
Storyline:
Zero Hour (Resident Evil 0)
BEFORE THE MANSION.BEFORE THE DISASTER.
EVIL IS BORN.
Sent to investigate a series of grisly murders in Raccoon City, S.T.A.R.S. Bravo Team scrambles into action. On the way to the scene, Bravo's helicopter crashes. Although everyone survives, what they discover next is gruesome: an overturned military transport truck riddled with corpses -- and that's only the beginning of their nightmare. Bravo Team is about to discover the evil that is growing all around them, and rookie member Rebecca Chambers is beginning to wonder what she's gotten herself into.
---
---
List Chapter or Page (19):