Standard Bearer (Sword of Rome #1)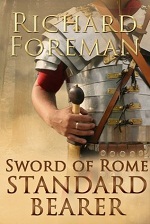 ---
Storyline:
Standard Bearer (Sword of Rome #1)
Britain, 55 BC.
Julius Caesar's invasion of the wild and mineral-rich land is becalmed, a stalemate exists between the forces of Rome and Britain. But the standard bearer of the Tenth Legion, Lucius Oppius, is about to display a depth of courage that will change the course of the invasion – and history.
Encamped upon the south coast Caesar, admiring the courage and skill of his standard bearer, orders Oppius to accompany a native British archer and go behind enemy lines. His mission is to hunt down a treacherous Roman agent, who is recruiting Britons to fight against the armies of Rome in Gaul.
Yet not all is what it seems and Oppius will fight for his life, as well as for Caesar and the glory of Rome, to complete his mission and find his way back home.
---
---
List Chapter or Page (22):